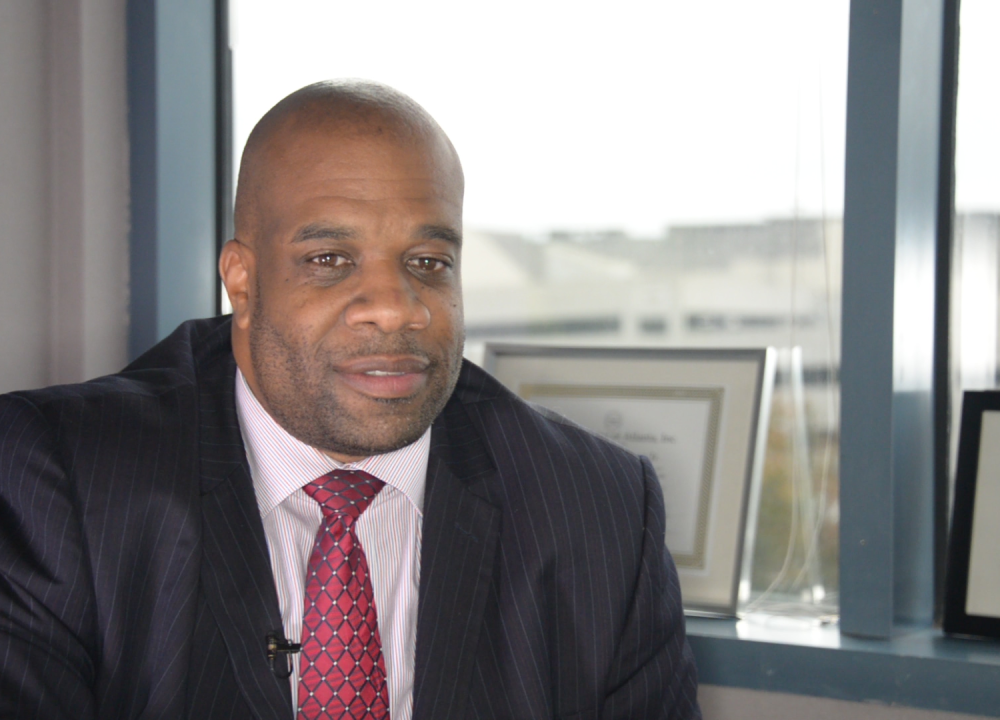 On the Rail to Recovery
Ferdinand Risco, Jr., Executive Director, Diversity and Equal Opportunity at MARTA, is encouraged by opportunities at MARTA. The Atlanta Business Journal recently met with him to discuss jobs, ridership and programs available to small and disadvantaged businesses.
1. How did your professional background prepare you for your role at MARTA?
I've held previous roles in transportation, more specifically the transit industry, in which I worked for the Metropolitan Transit Authority of New York state's Metro North Railroad. I worked there as the Diversity and Inclusion Manager, and I had a few other roles in management from the Operations Division, the Maintenance Equipment Division, Labor Relations, Employee Relations and finally Diversity.
2. How is your role aligned with MARTA's strategic objectives?
My role as the Executive Director of Diversity and Equal Opportunity allows me to really be involved in all of MARTA's strategic objectives. I am responsible for ensuring that the Authority is compliant with its equal employment opportunities as well as our service. I make sure our service is equitable and I'm also responsible for MARTA's Small and Disadvantaged Business Enterprise Program. So, in terms of the strategic objectives, all of them are geared toward the enhancement and development of transit in the region. This means my office is very much involved either in the employment, service or doing business with MARTA. So, it allows me a great opportunity to be involved in all of our strategic decisions as a member of the executive management team, as well as helping to shape the activities and services provided by the Authority.
3. MARTA celebrates 35 years of operation in Atlanta this year. What initiatives are you most excited about that will pave the way for MARTA's future growth?
We are very excited about our thirty-fifth anniversary and programs. I am most excited about our Transit Oriented Development Program (TOD), our recent service expansion, as well as the expansion of our Small and Disadvantaged Business Enterprise Program. Transit Oriented Development is a great opportunity for the region, and more specifically, our customers to live, work and play in and around transit stations.
We are developing in partnership with some local developers our transit stations so that you can have accessibility to not only the station but economic development for the regions in and around our stations. This will allow us to be good stewards and partners in our neighborhoods and ensure that there is not only economic development but a great opportunity for folks to live, work and play.
In terms of some of our other programs, it has really been great to talk about the expansion of our Small and Disadvantaged Business Enterprise Program as well as our service expansion. As you may know, we recently expanded our service to increase the frequency of our trains so that our patrons can have more access to the transit system and quicker service. And then the Small and Disadvantaged Business Enterprise Program, for which I am directly responsible, is just another way for MARTA to get back to the community. We think that it is important for small businesses to be able to participate in our procurement efforts.
MARTA is the recipient of federal funds, so we are required to have a Disadvantaged Business Enterprise Program. But we are expanding our program way beyond our compliance of responsibilities. We think that small business participation in our procurement process will allow for continued growth throughout the region and lead to greater economic development.
4. Based on your experience working in the transportation industry, what distinguishes MARTA from other authorities in major cities in and outside the U.S.?
One of the things which distinguishes MARTA is not only the fact that it's the largest in the southeast, but we also think MARTA is poised regionally to be the leader in public transit. There's lots of Transportation work going on in the state of Georgia. We have roads and highways being built. We have the work down at the [Port of Savannah]. And we think that a robust transit system in the largest metropolitan area in the state is just one more piece of the transportation puzzle. In terms of how MARTA is differentiated from other systems around the country, it is our leadership. With our General Manager and CEO, Mr. Keith Parker, and the vision that he brings to the authority, he's a good fit for not only the work we are doing in the region but internally to take MARTA and transform it to a next-level agency.
5. MARTA is projected to spend approximately $150 million over the next 3 years with qualified small and disadvantaged businesses. How can small and disadvantaged businesses take advantage of opportunities to provide services to MARTA?
The small and disadvantaged businesses in the region have a couple of different opportunities to be engaged with us. They may register as a vendor through our website. If they are able, based on the federal definitions of socially or economically disadvantaged businesses to register as a small disadvantaged business with the Authority, then with that comes a host of technical assistance as well as training opportunities to ensure that we are providing ease through the system of certification. We want to also make sure that once certified we push solicitations to small and disadvantaged businesses. We have a host of "Doing Business with MARTA" days and events. We recently conducted a regional buyer's tour. We have regional matchmaking and a regional summit that we have hosted in the past. So, there are lots of opportunities for small and disadvantaged businesses to come down and be matched up with prime contractors so that we begin to develop those relationships.
One of the other programs we are very proud of is a pilot program that we had this year where we partnered with the Georgia Minority Supplier Development Council (GMSDC). We sponsored 2 firms to go through the mentor protégé program in partnership with one of our prime contractors the Metropolitan Atlanta Transit Consultants (MATC). So, it is these kinds of programs and opportunities where we are partnering strategically in the region, as well as with our prime contractors to do what we can to help grow economic development and capacity in the system.
6. With approximately 146+ million system-wide passenger trips, what are some immediate infrastructure projects underway to support the passenger traffic?
The biggest infrastructure project is our ability to expand service. We think that as ridership grows we will be able to realize that revenue and put it back into the system. We have a few projects that are coming up hopefully in the near future in terms of infrastructure on our tunnel ventilation system. We also have a proposed project that includes audio and visual enhancements to signage and audio systems in our stations. We are proposing to do some enhancements that we think will be pretty significant projects. We are also building a new facility that will house our MARTA mobility operation, and we have lots of facilities improvements planned. So, that is our way of caring for the infrastructure so that we are able to continue to perform at increasingly more efficient and more effective ways in helping to get our passengers to and from.
7. What advice would you give to a recent college graduate who is considering a career in the Transportation industry?
Well, I will tell you that the transportation industry, more specifically public transit, has a wealth of career opportunities. I currently serve as the Vice-Chairman of the Workforce Development Sub-Committee for the American Public Transportation Association (APTA). Having just left our annual meeting, this industry is wide open for opportunities. The industry has everything from coach cleaners and operators all the way through to the designer of the next rail car and everything in between. There are more opportunities than you can imagine, so I would encourage any of our recent college graduates or anyone else in the professional space to explore. It is an industry that has been very good to me, and I think it provides lots of opportunities for your readers.
Quite honestly, the industry is facing a talent crunch. Many of our "baby-boomer" generation are due to retire in the next 3 to 5 years and the industry is projected to have tens of thousands of jobs. So, it is a great time to join the transportation industry, and here at MARTA we are not only open for business but there are lots of opportunities. I would encourage you to look at our Website at www.itsmarta.com for not only our current but future opportunities as well.